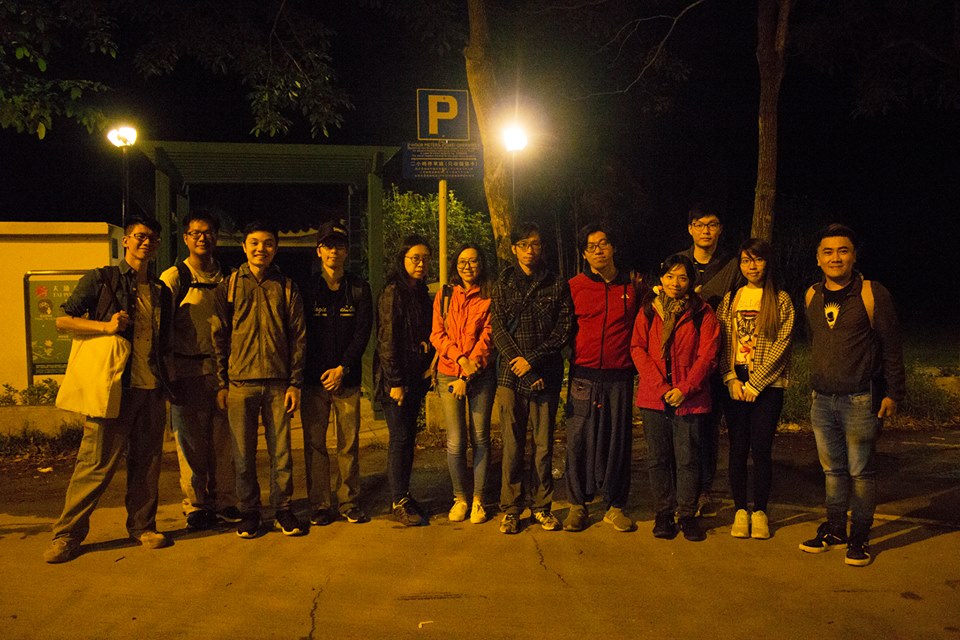 Last week, we at Passion Times successfully held our first-ever Firefly Ecological Guided Tour limited only to Passion Prime's subscribers. My co-host on our show Catizens' Ecological Safari, Yoe and Cheong, along with myself and accompanied by a qualified first-aider, led a group of twelve participants on a night tour of the Tai Po Kau Nature Reserve. During the tour, we observed fireflies and other interesting nocturnal creatures, as well as having an appreciation of the natural environment in the area.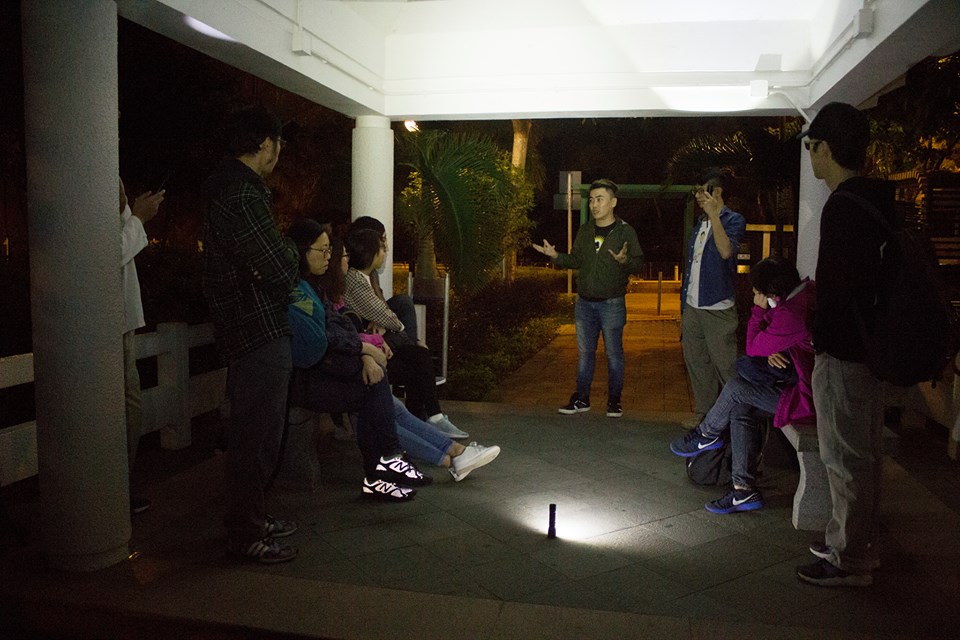 In carrying out an ecological tour, it is essential that we bring as little impact on the environment as possible. Hence, as responsible tour guides, we gave all participants a briefing on all matters of note upon our arrival. At the same time, we also gave a detailed introduction on Tai Po Kau Nature Reserve's natural characteristics for our participants' better understanding of why there are such rich and precious ecological resources within these hills and valleys.


During the tour, we would give a thorough presentation on a species' interesting habits as we encounter them, as well as providing photos for reference as required to supplement our commentaries.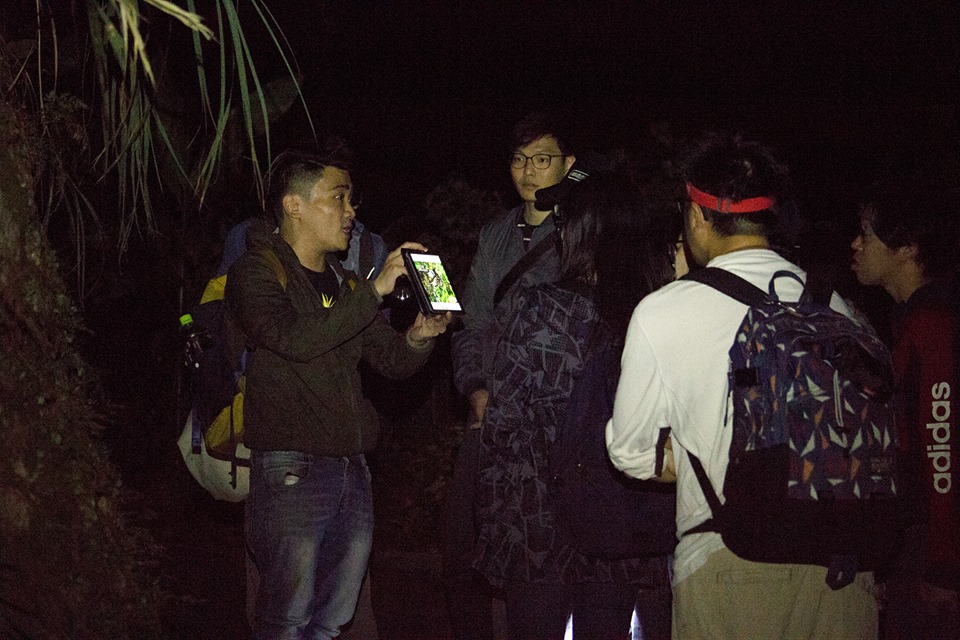 On that night, specks of eye-catching fluorescent green lights danced about everywhere as we made our way through the woods. What we saw was a species of fireflies that are active during winter known as Pyrocoelis Analis. They are different from the summer species of the genus Luciola, where the latter's glowing lights do not flash but would seem to constantly float about in mid-air like will-o'-the'wisps.
When we arrived at an unassuming stone wall, we asked our tour participants to shine their normal flashlights onto it to see what they would find. They did as we asked and saw nothing out of the ordinary, but after they shined the ultraviolet torch that we provided them, everyone was surprised at what was there.
In actuality, numerous Dwarf Wood Scorpions (Liocheles Australasiae) dwelled within the stone wall. These tiny, non-poisonous and even shy scorpions love to hide within stone cracks; but when ultraviolet light is shone upon them, the chemical on their shells would give out a green fluorescent glow, making them visible plain as day. A point of note is that the Dwarf Wood Scorpion is one of three known hermaphroditic species of scorpions in the world.
In addition, participants of the tour along the way sighted Hong Kong's only species of salamander, the Hong Kong Warty Newt (Paramesotriton HongKongensis), as well as the Green Mountain Frog (Odorrana Livida) which is capable of excreting a smelly, poisonous substance, a dragonfly at rest hanging from a tree, a rarely seen Many-Banded Krait (Bungarus Multicinctus) and other interesting animals.
This guided tour ran smoothly all thanks to my two co-hosts and our enthusiastic participants. The following are their reflections –
Yoe (Tour guide):

It was my first time leading a tour opened to the public, so I felt extremely tense. This was because I couldn't find any signs of the fireflies when I scouted the site prior to the tour, I felt somewhat frustrated and worried that our tour's participants would be disappointed. Therefore, I spent my time after work on multiple occasions to Tai Po Kau and keep looking.
But circumstances had not been ideal, and at the time it made me wanted to commit seppuku …..
As a result, we decided to postpone the activity to the third of November instead. Luckily, the heavens were willing and gave us perfect weather, our tour managed to go as planned and no participants were disappointed. Only afterwards could I breathe.
The fact that the tour went smoothly was not only due to good weather, but also because of my fellow associates' cooperation. Many thanks to the two Cheong, who were responsible for photos and first-aid, but much more so to Kiyo as my speaking skills are not adequate, even though I had more knowledge about nature. Kiyo's rich experience in speaking as a show host brought life to the tour.
It was great that I could partner up with them for this tour, and I must also thank everyone who participated, as their enthusiastic interest in nature made them the best observers. I'm both encouraged and thankful. Before the end of the tour my heart the whole time was anxious, worrying about if there was anything I didn't do well or if there would be an accident, all the way until the end of the tour. The sense of accomplishment and thankfulness towards everyone there afterwards was indescribable. I can only be thankful that everything went well.
Cheong (Tour leader and photographer):
Since I started helping out with sterilising stray and feral cats, it has been six years that I began doing animal conservation work. My experience during these six years made a deep impression upon myself, which is that Hong Kongers are totally disconnected with other animals and nature itself. Hong Kong people are very resistant towards other life forms, being under the impression that those other life forms don't deserve to be in Hong Kong, and that they are dirty and unclean.
It is because of this that one of Passion Catizens' mottos was hoping to establish an animal-friendly city. I remember that as a child, my family would take me on a nature hike and showing me how to look after small insects. In my memory, people had been glad to see animals being around them; but nowadays, when animals happen upon urban areas, they would be seen and rejected as invaders. Cats would be chased away by cops with shields, there would be groups out to hunt wild pigs, and schools would petition the Agriculture, Fisheries and Conservation Department to deal with stray dogs in the area.
Therefore, when Kiyo suggested that there should a show talking about the natural ecology in Hong Kong, encouraging Hong Kongers to better understand and have a passion in Hong Kong's natural ecology in order to appreciate them, I was very much in agreement and gave my support. This Firefly Tour took us out of the online world and led our viewers on a close and personal contact with nature, and after seeing the happy excitement on our participants' faces during this safari tour, we felt strongly that we did something truly worthwhile.
Calie (Participant):
The journey was fun and it was my first time on a nocturnal nature hike. It felt different, and I was tired and sleepy, yet it was fulfilling. We were lucky in being able to see so many different kinds of creatures, so we have to thank our guides for taking us on this adventure, for we would not have been able to see and know about these living creatures if we had hiked on our own. Moreover, I have to thank Kiyo and Yoe's commentaries, because even if one has the know-how to find all these little animals, they may not know about these animals' habits and characteristics. I hope that there will be another opportunity to join in one of your tours.
Nicholas (Participant):
This Firefly Tour was organised very well. Other than seeing fireflies, we were able to see other animals and what gave me the most memorable impression weren't the fireflies but seeing the scorpions using ultraviolet light. It was quite a sight seeing them all over the wall. In addition, other than Kiyo's very detailed commentaries – as well as his knowledge about stories of Hong Kong (such as Mang Gui Kiu, or Haunted Bridge) – Yoe's was really awesome. He was able to identify an animal and its biological name on the spot; what was even more awesome was that Yoe could tell what plant it is just by sight, even though every leaf looked the same to me. He was the real deal! Moreover, he was very equipped for the tour, such as being able to provide infrared and ultraviolet light for us to see some rare species. In summary, I felt that this tour was carried out very well indeed! I can't wait for another activity such as this!
Brenda (Participant):
Having to work on the hills the last two years, I had to walking down in the dark whenever I have overtime. A small part of that journey included walking down a hill pass where I have to occasionally use a torch, but it was nothing as it only took three to five minutes. This Saturday however, was my first time to actually take a nocturnal nature hike. The weather in the evening was cool and not too dark, so we didn't need to use a torch during the start. This experience was actually worth it! It felt much better than my usual hike in the morning! The tour was an eye-opener to see all these insects, animals and plants that I never would have seen normally! The most memorable part was seeing the scorpions (my astrological sign is Scorpio, so I am extra sensitive about anything that has to do with it) and snakes. Unfortunately, my mobile phone was not too flash so I couldn't capture the fireflies on camera, but it was exciting to see all these fireflies. Furthermore, Kiyo gave us quite an ecological lesson where we all learnt a lot. Can't wait for the next one!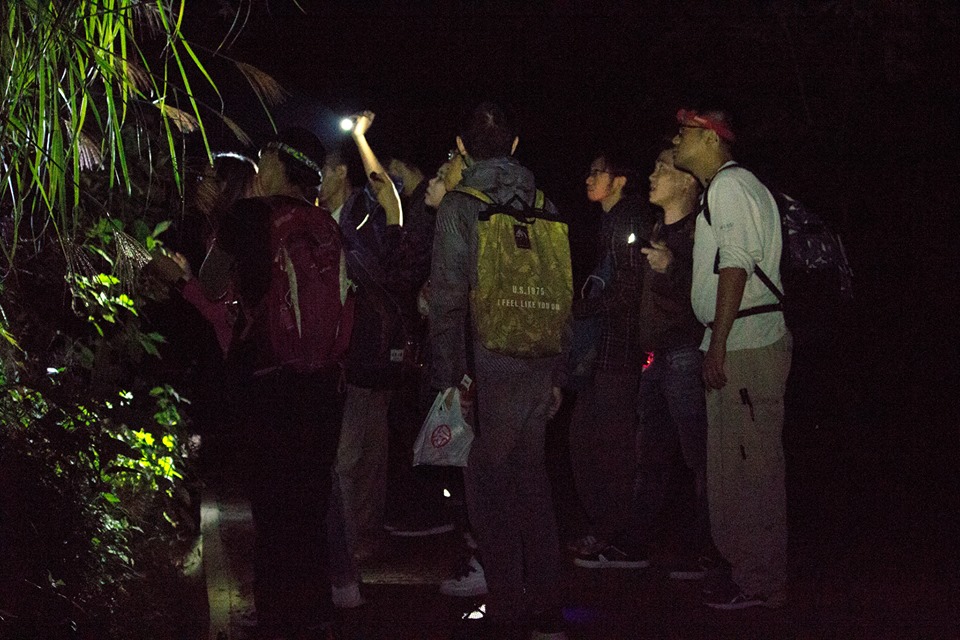 John (Participants)::
Other than the fireflies, I was able to see other animals too; such as the newt trying to flirt with a potential mate, the Asian Common Toad that could excrete a white liquid, scorpions that would glow in ultraviolet light, and the rarely seen Banded Krait ….. Many thanks to Kiyo, Cheong and Yoe in leading the tour, I hope for another ecological tour in the future!
Karrie (Participant):
This long-awaited hike finally happened, and the main attraction was the fireflies. Other than that, what I really wanted to see was the wall full of scorpions; and under ultraviolet light, we could clearly see the scorpions in the cracks along the wall. It was a beautiful and special sight to see the wall covered with scorpions under the blue light. When we arrived at the riverside, the Hong Kong Warty Newt swimming was such an adorable sight, it looked like a grown up tadpole that had yet to become a frog. It's my first time taking a nocturnal hike and it was so comfortable and relaxing walking in the quiet environment unique to the hills! My gratitude to Passion Times and Passion Catizens Safari's show hosts (Kiyo, Yoe, Cheong) and their guidance, so we were able to become familiar with the nocturnal ecology out in the outskirts of Hong Kong. I'm so hoping for another tour!

Tad (Participant):
The tour guides for this ecological tour gave quite the professional commentary, it was also interesting and lively, as well as fully prepared. The whole journey was a happy occasion, and other than the fireflies, we were able to find many interesting animals such as the Hong Kong Warty Newt, the Rice Field Frog and the Green Mountain Frog.